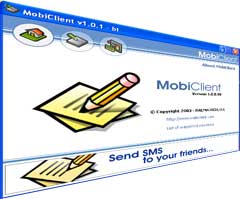 MobiClient
Text Messaging to Mobile Phones from Your Desktop.
MobiClient is an easy-to-use software that allows you to send Text Massages to any US mobile phone right from your desktop.

MobiClient is Free for 3 messages!

Try MobiClient Free - you get 3 messages. Additional meesages are available for purchase here.

By default, MobiClient includes Corporate/Group Sharing of Pre-Paid Messages
MobiClient offers several additional ADD-ON upgrades, including:
| Description | Price | |
| --- | --- | --- |
| Reply-to-Mobi Feature: Have recipients reply to your MobiClient SMS Messages, 1-time fee. | $19.99 | Add to cart |
| Description | Price | |
| --- | --- | --- |
| Ability to Broadcast your SMS to 3 recipients at once, 1-time fee | $9.99 | Add to cart |
| Ability to Broadcast your SMS to 10 recipients at once, 1-time fee | $19.99 | Add to cart |
| Ability to Broadcast your SMS to 20 recipients at once, 1-time fee | $29.99 | Add to cart |
| Ability to Broadcast your SMS to 80 recipients at once, 1-time fee | $99.99 | Add to cart |